Hunting in Slovakia is not a "walk in the park"! It may look like it, but all we do is eat, sleep (a little), hunt, repeat!
Our hosts have made a full program for the days we are spending here. While we take a break and a nap, they have meetings and attend work for a few hours… I have no idea how they are doing this!
Wednesday began at 3:15 in the morning. At the very nice pension we are staying we ordered breakfast bags to bring along and the poor hotel guy met us in the lobby at 3:45 am to let us out. We met with our guide at the hunting area at 4 o'clock for what they call a "spot and stalk" hunt.
Walking into the forest we were greeted by a flock of fallow dear. What a beautiful sight to see them run away in the morning light! Three persons trying to walk in stealth mode trying to be invisible is not an easy task! But I did my best and passed the test. Walking slowly step-by-step for 7.2 km is also a pretty good source of internal heat and may I say, a more sustainable solution than the alcohol we had for breakfast yesterday! As the unexperienced hunter I am, I had put on too much clothes being afraid of getting cold. And binding the inner jacket around my waist after an hour kind of ruined the camouflage…
Now that I have tried these two very different ways of hunting, I must admit that compared to the "spot and stalk" I like the "sit and wait" edition better. On the spot and stalk there are too many potential mistakes to make. If you are on your own of course, there's only yourself to blame if things don't work out. Isn't that always the easiest thing to do? I mean, blaming yourself when things don't go the way you planned?
If I could choose only one life skill, it would be the ability to manage my failures, be able to get up, show my heart mercy and try again without shaming and blaming myself. What would life be like if every failure was considered a beautiful growth place for new learning and more experience?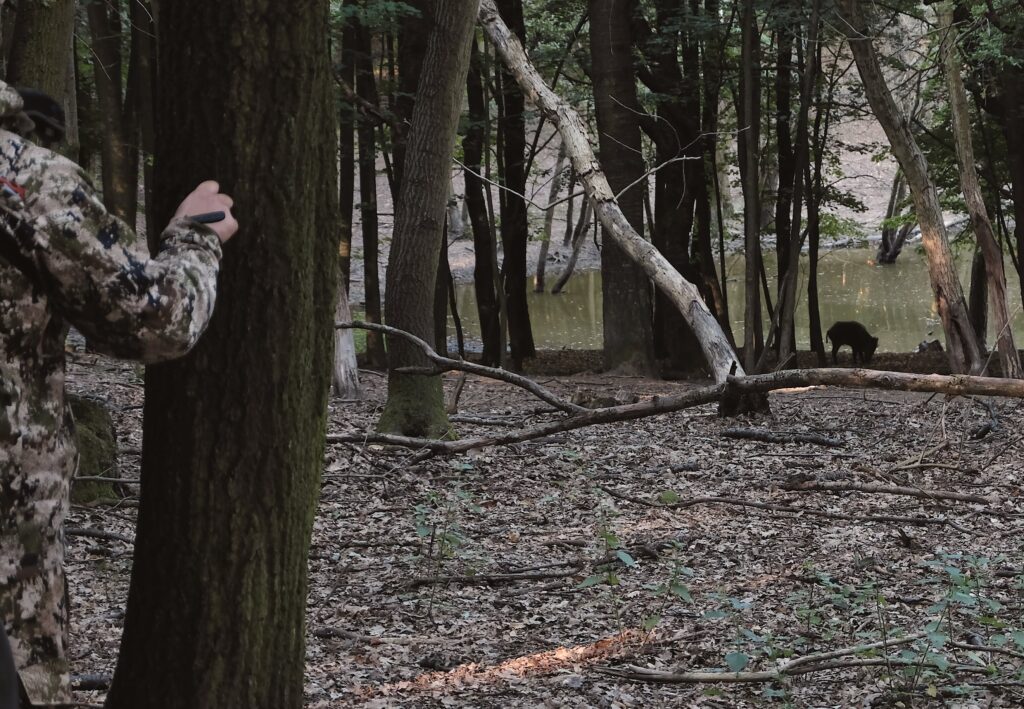 And that was exactly one of the lessons of today. We saw several wild boars on a distance and even got pretty close to three big ones (!) that were sleeping after a night full of activity. With a couple of good chances but missing his shot Michael was not a happy camper! I bet every hunter knows what it feels like to miss a target. But not everyone shares their mistakes for others to learn from. It always takes courage to be vulnerable.
Returning to base camp we had delicious, scrambled peacock eggs and homegrown zucchini for "second breakfast" while processing the morning events.
Because we couldn't find the arrow, we had to return to the site later to look for it and that was an interesting experience for me. As Michael tried to recall the situation, he was pretty sure about his own position and the position of the wild boar 30 meters away in the shooting moment. Both Michael and the guide saw the arrow bounce off the dirt road at approximately 50 meters. And that gave us an indication of where to look for the arrow.
Only after 20 minutes of searching we found it in a tree, 40 cm above ground level at the distance of 200 meters! Without the tree it could have continued maybe another 100 meters. What A powerful instrument the bow is! And how helpful it would have been to pay more attention to the law of physics in my school days…
So, I prefer the tree stand while Michael likes the sneaking around. Therefore, we tried to do a combination for the evening hunt. The guides would drop us off at two different locations in the forest even though it was raining a little. After a while Michael would find his way to me in what has become my new favorite place.
The peacefulness was astonishing and the sound of the raindrops on the leaves was as healing as listening to the waves at the beach which I couldn't live without.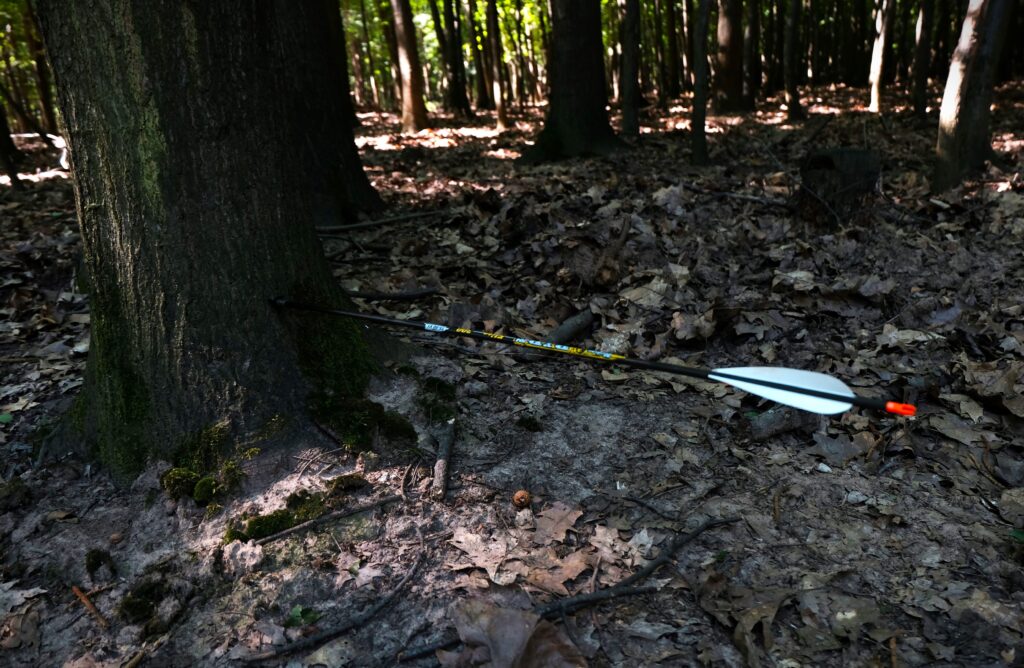 No wind. No animals in sight. I absolutely loved it, and I got absolutely wet! Three times I thought to myself: Don't worry, the rain will stop in a minute. And every time – (I'm not kidding!) – every time it seems to intensify! Like someone was trying to teach me the importance of having the proper gear!
Yes, yes I get it now! Most (!) of the gear Michael has, is actually a "necessory" not an accessory. When you spend hours in nature not on your terms, as most hunters do, worries about whether you are too warm or too cold, wet or still dry, is not supposed to steal the focus from the beauty and activity going on around you.
Anyway, despite the heavy rain I was still able to enjoy the scenery but slowly got to the point where I was thinking that getting completely soaked would be stupid and I seriously considered retreating to a nearby ground blind to get some shelter from the rain. In that very moment I looked over my shoulder and out came a group of wild boars to eat. I texted Michael immediately and he was heading in my direction.
But on his way he was delayed by another group of pigs and got as close as 70 m with no chance of releasing a shot though.
For 15 to 20 minutes I was filming, taking pictures, trying to protect the camera from the rain while doing a "mission-impossible-kind-of-catch" of one of my gloves before it fell off the tree stand and possibly scared the flock away. Can't wait to share some of these moments with you as soon as we get a better internet connection…
If Michael had been with me he would have had the perfect opportunity for the perfect shot! But the flock decided to take off five minutes before he came. It would have been a great comeback from this morning and an amazing story for the blog… But this is real life, this is hunting.